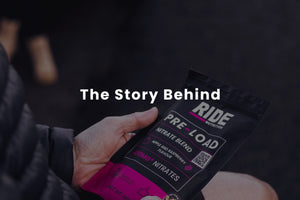 Pre-Load Nitrate Blend
Let's Go Back In Time
It was approximately 8 years ago that I first witnessed the use of nitrate supplements within the Action Sports industry. I remember watching Hard Enduro legend Jonny Walker drink two beetroot based shots on a morning before his race later that day. So what was the reasoning behind this surprising nutritional strategy?
After talking with Jonny himself, his reasoning behind the use of nitrate supplementation strategies quickly became apparent – enhanced endurance performance and increased blood flow, helping to reduce the symptoms of 'arm pump' when riding his motorcycle.
I began to question why this nutritional strategy was so unbeknown to the vast majority of athletes within Action Sports? It was as if the evidence in support of the beneficial effects associated with nitrate supplementation wasn't being transferred and made applicable to this industry.
Several years passed, but the use of such nitrate strategies within Action Sports still hadn't seen any considerable growth or increase in popularity. With this being said, I soon realised that I hadn't been the only one to take onboard the nutritional strategies used by Jonny Walker at the time.
Would you believe me if I said the first thing that Billy Bolt, the current Hard Enduro World Champion, buys when he arrives at his international indoor races is a jar of beetroot? It sounds comical, but it's the truth. He too had picked up this alternative nutritional strategy and put it to great use during his successful indoor and outdoor seasons.
Our Concept
This then lead to the concept behind our first product, 'Pre-Load Nitrate Blend' as we set out to:
Spread the awareness of nitrate supplementation strategies within Action Sports.
Increase the understanding behind the potential associated effects on performance.
Improve the availability of palatable and convenient nitrate sources that appeal to the masses.
The end result? Click here to see for yourself!
---